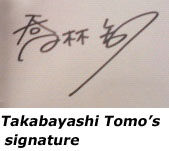 Tomo Takabayashi, born on August 26 (year unknown), is a Japanese novelist, light novel writer. She is best known for her work on the Maru MA series novels, which were animated with the title Kyou Kara Maou. Her blood type is O. Her editor is known as GEG (Great Editor Gotochin).
Before changing her name from  Takabayashi Chica (喬林 親) to Takabayashi Tomo(喬林 知), she wrote short stories in a Movic anthology called "Dangerous Second Love" (Abunai Sekando Rabu, 「危ないセカンド・ラヴ」 ), and in a magazine called HB.
- In November 1994, for Dangerous Second Love , she wrote the short story Yamerutokimo (ヤメルトキモ).
-In March 1995, for Dangerous Second Love's 8 issue, she published, Kyoudai wa imasaka (兄弟はいますか).


-In July 1995, for Dangerous Second Love's 9th issue, she published Kinou Made Yanki (昨日までヤンキー). (Up until yesterday I was a Yankee).
- In December 1995, her story Tsurukame (ツルカメ), was published on the fifth issue of "HB" .
- In 1998, she published "Hottokenai yo!", a really serious, Boys-Love novel. The publisher was Cosmic International (コスミックインターナショナル). Size: 7 x 11 cm paperback book.

Private life - Wikipedia
- Takabayashi likes drinking alcohol, movies and paperback books, but more than any of those, she likes dogs.
- She is a huge Seibu Lions fan, and especially likes Tsutomu Ito.
- She likes music as a hobby, but can only play brass instruments. Since she thinks she'll bother the neighbors with her music, she's happy with just whistling instead.
- (Said by herself) It takes her a long time to write the manuscripts.
- Because she "talks a like an old man", the readers often wonder "Is she a man? ".
Private life - Information found in her published works
In her essay Mayurin, found in her doujinshi Knecht Ruprecht:
- She says that elderly people like her can't keep up with the changes made to the new Seibu Lions Uniforms
- She was worried that they would discontinue her series. (in 2001)
- She says her older brother, who she uses as a 'help desk', couldn't help her with her computer problems.
- She called the yellow bear who kept her company (in her Pocket Post Pet) 'puu'.

In I want them to grow up looking only at beautiful things, found in her doujinshi Walpurgis Nacht (p. 4):
-She states that she turned 48 in 2002, although her liver is that of a 69 year old. If this information is accurate, she was born on August 26, 1954.

External links