In English: There's no lid.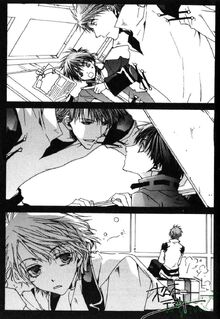 It's a short story by Takabayashi Tomo at the end of Volume 2 of the manga. It also contains one illustration.
Yuuri disappears out of Conrad's sight and when he comes back he asks Conrad if he can do magic tricks, since he can do so many things. Yuuri explains that he found a flyer and asked someone aboard the luxury cruise ship if there was going to be a magic show for the kids.
But it seems that there's not a magician on board at all, and Yuuri gets angry. He lowers his voice as to not wake up Wolfram.
To fix this "problem" Yuuri decides to perform a magic trick himself for the children. He decides to make the magic trick where a box gets pierced through with swords, but when Yuuri realizes that they don't have a trick box and whoever goes inside will get injured, Conrad proposes to change the trick from stabbing, to disappearing from inside the box.
Yuuri gets inside the box and Conrad locks it, so Yuuri can't run away.
Conrad then tells Yuuri that the flyer indeed promised a magic show during the summer season, but that the summer season was over, and that's why there was not a magician.
Wolfram wakes up and mutters that the crew must have forgotten to take the poster down.